Mar 9, 2021 04:31 PM Central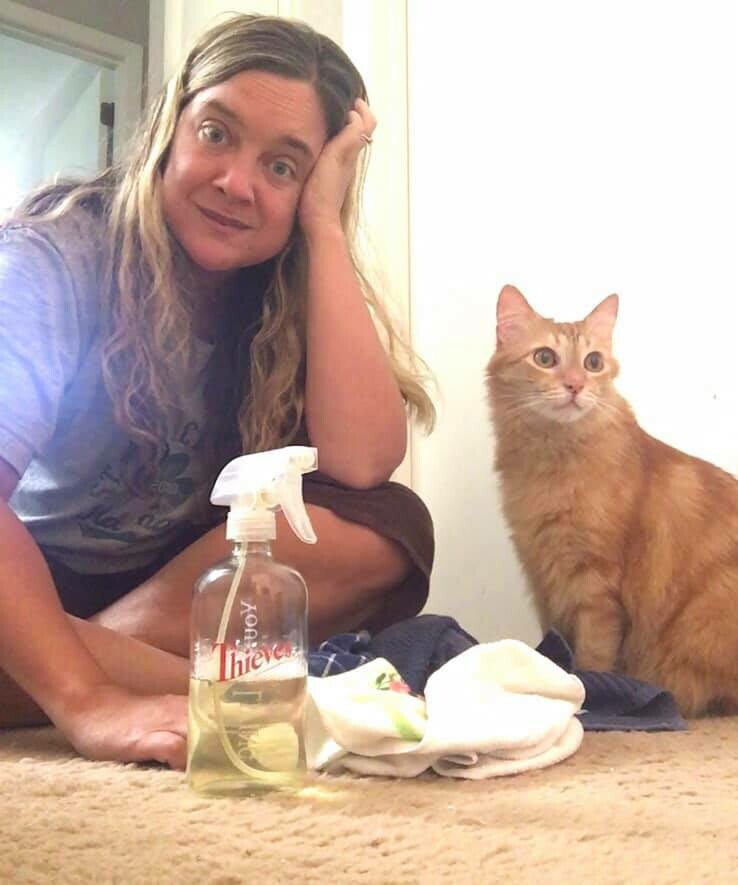 Happy Almost Spring to my Oily Friends!
This teacher is enjoying Spring Break and spending her time De-Cluttering and cleaning all of the things. Are you following along in our De-Clutter Challenge in my FB group, #oilsandblessings? We are having the most fun cheering each other on as we clean out and clean up. As I was using my Thieves Household Cleaner in various ways these past few days, it occurred to me that you might not know all the amazing ways to use your cleaner. So, here are some cleaning tips for you.....
Basic Cleaning: For basic household cleaning, like countertops, floors, and toilets(or the baseboards you see me thinking about cleaning in the photo), just add one capful of cleaner to any spray bottle and fill the rest with water. Remember, the cleaner is very concentrated so a little goes a long way.
Tough Cleaning: For tough areas, like tubs or sinks,

I mix baking soda with Thieves Household Cleaner, just enough to make a paste and it comes clean with very little effort.
Empty trash can and fill with water.
Pour 1-2 capfuls of Thieves Household Cleaner directly into the can (1 capful for a small can, 2 for a large one).
Let sit for several hours.
If needed, scrub stubborn stains with a brush.
For an ongoing fresh scent, place a few drops of Eucalyptus Globulus( or oil of your choice) on a cotton ball and put it in the bottom of the trash can before replacing the liner.
In a microwave safe bowl, mix 1 Tbs of Thieves Household Cleaner with 2 cups of water. Microwave for 2 minutes. Wipe down the microwave using a damp rag. TA DA!!
(For an extra cleaning boost, add one drop of Purification to the mixture)
Let me know if you try it!
For more cleaning fun, check out the Thieves Laundry Detergent and the Thieves Dish Soap! Now, we can have a blast cleaning all of the things.
I hope you found these tips useful and maybe you pull your cleaner out today and choose an area to clean. Today, I scrubbed the bathroom floor (fun times). If you would like more tips, make sure to connect with me on FB as Tray Nicole. You can also hang out with me in my FB groups: #oilsandblessings and #mindsetpositive. Oh! Don't forget my newest group: Oils and Devotions! My VIPs are currently enjoying Fear Not Month as I write for them devotionals about faith and courage and teach them about mindset oils. Want to be a VIP? At least a $30 order in March gets you in the door for April. April will be MINDSET MONTH! All of the devotions will be about getting our minds right AND there will be a mini Mindset Challenge with 3 tasks per week.
Not on FB? Email me, text me, call me :) I am only a few clicks away.
There are so many ways that I can serve you as your Oily Mentor! It is my honor and my pleasure. Let me know how I can show up for you.